Elmer's Glue-All Multi-Purpose Liquid Glue is America's favorite multi-purpose glue. It's great for Homemade, Repairs & Craft Projects!
Make repairs, create crafts, and finish school assignments with the strong bond of Elmer's Glue-All.  This multi-purpose glue bonds strongly to a variety of different materials, including paper, ceramics, leather, fabric, wood, and more. Strong bonding makes this glue ideal for household repairs, craft and school projects, and workshop applications. What's more, the classic white glue look is ideal for making glue slime so you enjoy hours of family-friendly fun.
A must-have glue for the kitchen, den, workshop and garage.
It dries fast and is safe and non-toxic. Glue-All is stronger than ever before—so go ahead—glue all.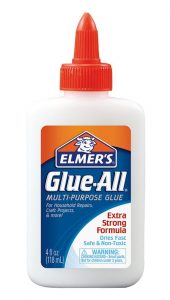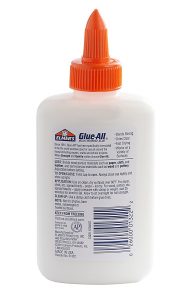 Features:
| | | | |
| --- | --- | --- | --- |
| | | | |
| Non-toxic, Safe and  Quick-drying formula |  Extra Strong for Better Bonding |  Glue ALL with Slime |  Create, Build and Learn with Elmer's |
| Glue on items quickly with Elmer's Extra Strong Glue-All Multi-Purpose Glue. The Elmer's Glue-All formula is fast-drying and perfect for crafts, projects, and light repairs in the den, kitchen, garage, and workshop. | Perfect for repairs and projects around the office or at home | Washable and Easy To Use in the classroom from the glue kids know by nameEnjoy hours of family or classroom fun by using Elmer's Glue-All Glue to make homemade slime. Simply mix Elmer's glue with common ingredients including contact lens solution, baking soda, and food coloring (for colored slime). But don't let kids do it alone – adult supervision is required. | The top craft products designed to keep your projects looking their very best |
Application:
★ Bonds to paper, fabric, wood, ceramics, leather, and more
★ Safe, Non-toxic, and Quick-drying formula
★ Perfect for crafts, repairs, and projects
★ Ideal for use in the kitchen, workshop, den, and garage
★ Great for creating smile at home or in the classroom, even on the workplace landscape
Product information
Technical Details
| | |
| --- | --- |
| Brand Name | Elmer's |
| Item Weight | 4 ounces |
| Product Dimensions | 1 x 1 x 1 inches |
| Color | White |
| Material Type | Natrual |
| Number of Items | 12units/ 1 ctn |
| Size | 4 oz/ 118ml |