UNEXPECTED life hacks for adhesive tape
HACK#1  Cup-holder For The Chair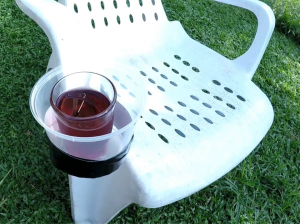 HACK#2 Use tape to maintain your seat position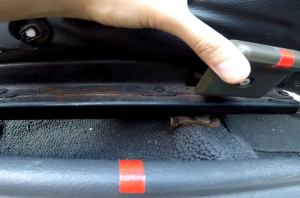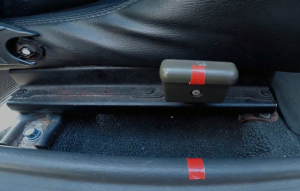 To line up your seating preference
HACK#3 Decoration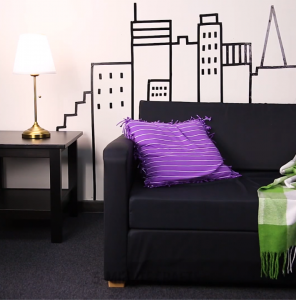 HACK #4 Fold your shirts like a pro in just seconds
Step 1 :
Cut a cardboard box equal rectangles, with each one, roughly the length of a classic folder T-shirt.
Step 

2 :

Uses 5 pieces of tape to connect the tops and bottoms of each column together.
Step 3:
Flatten your T-shirt face down in the center, and then fold one side towards the center, and repeat for the other side, flip the shirt, and you're done!
HACK #5 As a Lint Remover
| | |
| --- | --- |
| Step 1: | Grab a rolling pin or even a clean paint roller or wrap a piece around your finger and build your own super effective clothing cleanser with our tape |
| Step 2: | Just wrap your tape around and around the rolling base with the sticky side out |
| Step 3: | Keep wrapping until you have a full-bodied sticky roller. |
| Step 4: | And now go to town on your clothes, rolling over all the troublesome spots! It able you to take out all hairs, lint, and everything |
HACK #6 As Markers On Your Suitcase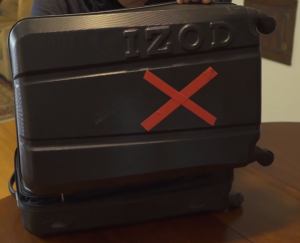 Grab the tape and place them on your luggage in whatever unique shape you want
HACK #7 Open a bottle using Tape
Step 

1 :

Wrap the Tape Around the Lid

Step 2 :

Fold the Tape

Step 3:

Remove the Lid
HACK #8 Make use of its waterproof capabilities to create a container or a tape cup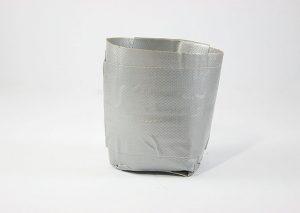 | | |
| --- | --- |
| Step 1: | All you need is 6 strips of tape |
| Step 2: | Lay out the six strips in two asterisk patterns, keeping sure to be as even as possible |
| Step 3 : | Then, stick the two together, leaving a small sliver of adhesive visible |
| Step 4: | Fold the tape over, connecting the overlapping adhesive, and trim the top |
HACK #9 Temporary Patch and Sealant
If something can leak water or air, there's a good chance that a strip of tape can be the only tool you need on hand for temporary or permanent repairs, tents, HVAC ducts, inflatable rafts, and even car tires can benefit from the tape treatment. While it's not a permanent solution in most cases, tape creates an airtight seal and is water-resistant, meaning it'll hold up in most conditions, at least long enough for you to get somewhere to properly repair it. For the best seal, use a crisscross pattern and press firmly to remove any air bubbles.
HACK #10 To repair loose carpet
HACK #11 To prevent a button-up shirt from gaping using double-coated tape
HACK #12 To fix a bookbinding
HACK # 13 Make labels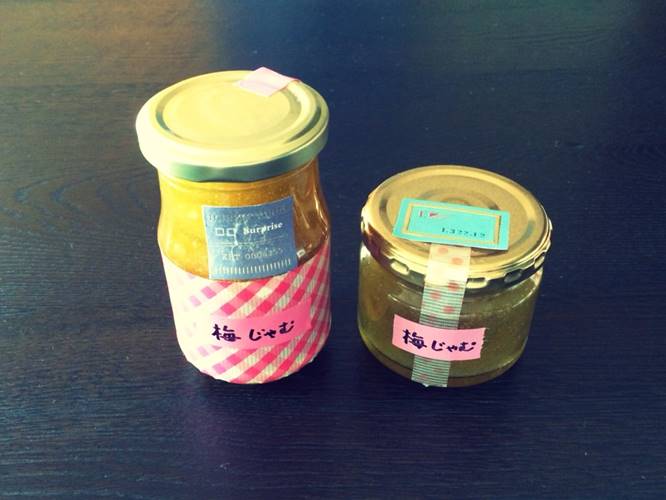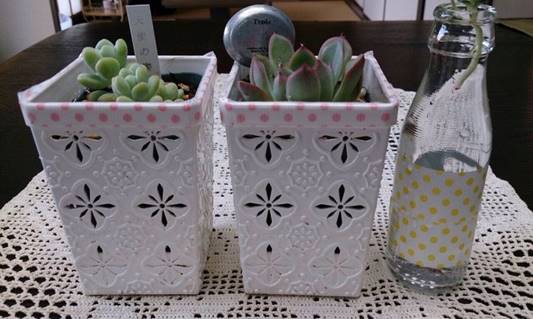 Write your plant names on tape and stick it on the popsicle stick for your garden. Use it to clarify which is the flour and which is the sugar in your pantry. Our tape is easy to write on and sticks on most surfaces; use it to label everything in your home.
HACK#14 As a furniture Cast
To prevent scrapes and gouges made on the wooden flooring by the furniture. Using tape solution could s a furniture solution! You could paste the tape on the legs of the furniture. With the adhesive side facing up towards the leg, paste them and save your floor from the unnecessary scars.
HACK #15 As Scoop Scraper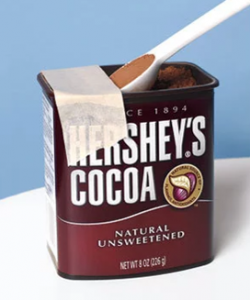 Attach the sticky side of a shorter piece of masking tape to the sticky side of a larger piece. Then place the tape across the top of a container of, say, cocoa so that the ends adhere to the sides of the can. The next time you scoop, you can easily level off your helping and avoid cocoa-overload.
HACK# 16 As Racket Cushion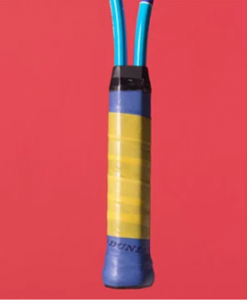 Add extra oomph to your backhand by making your racket more comfortable to grip. Simply wrap the handle with electrical tape for additional (colorful) cushioning.
HACK#17 Add grip to slippery shoes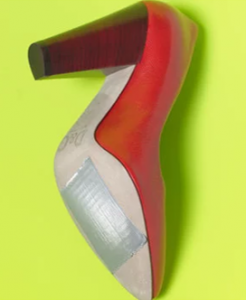 Tape a piece onto each sole of new, slippery shoes for added traction.
HACK #18 As Snack Sealant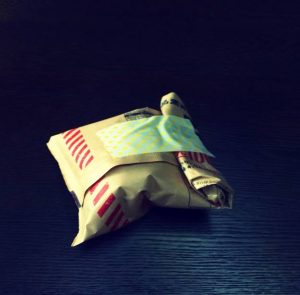 Preserve family-size packages of snack foods.  The Tak's tape allows you to seal and reseal a cereal or chip bag without losing its tack.
HACK #19 Fix Shoelaces And Prevent Blisters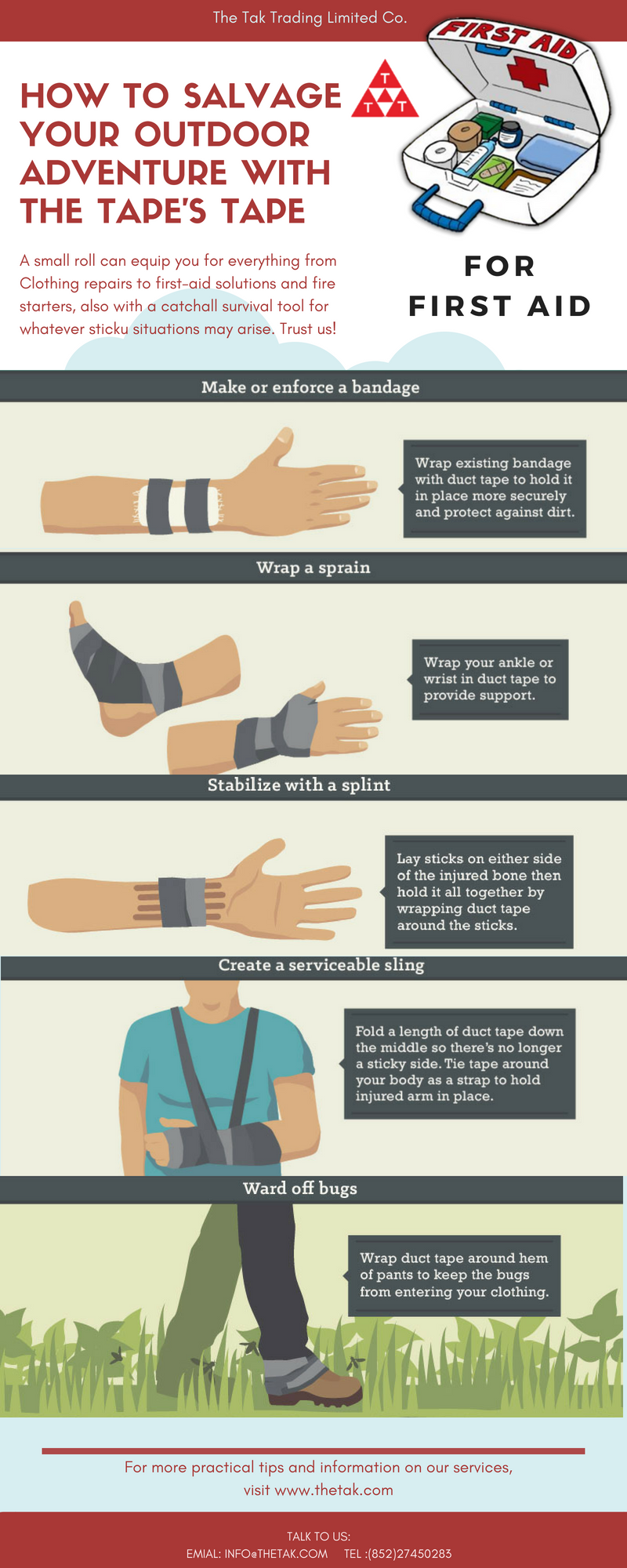 Did you leave an oh-so-important item at home? No worries! The Tak tape can be molded into all sorts of basic necessities.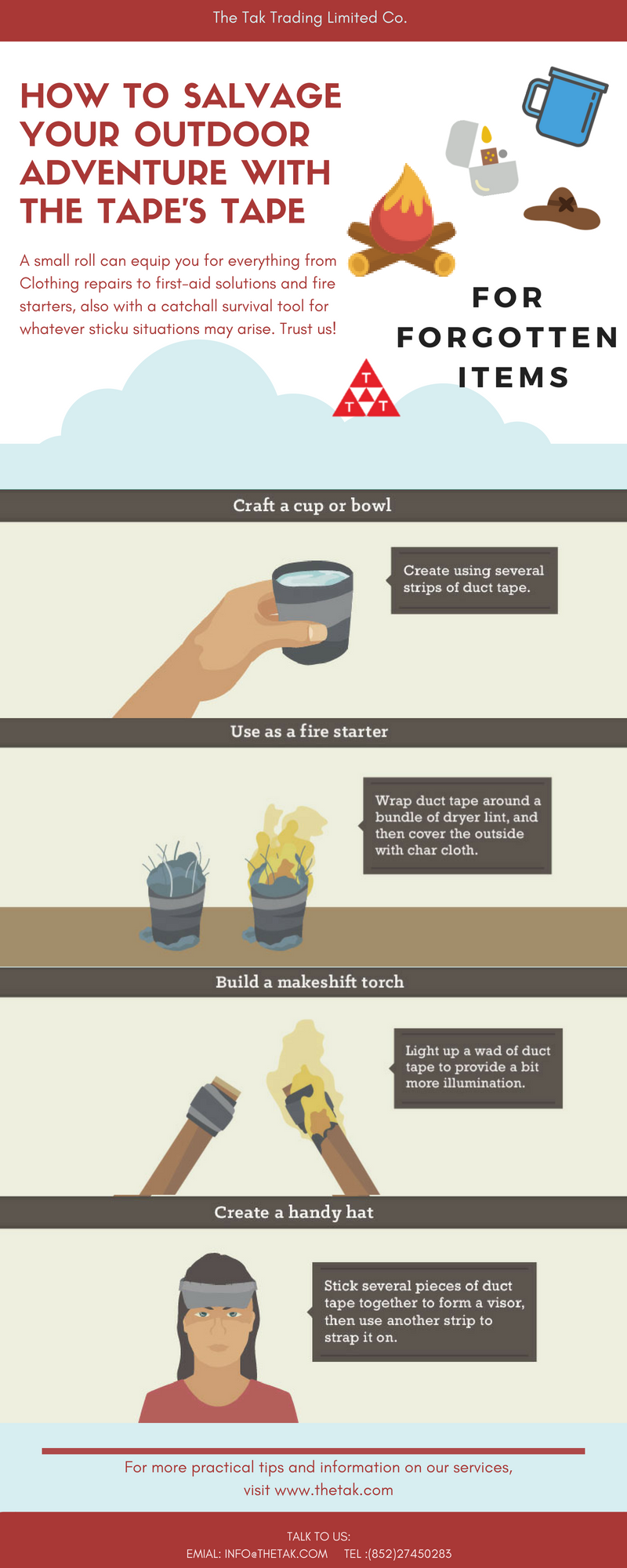 There are also many more ways to salvage your outdoor adventure with this wonderful tool.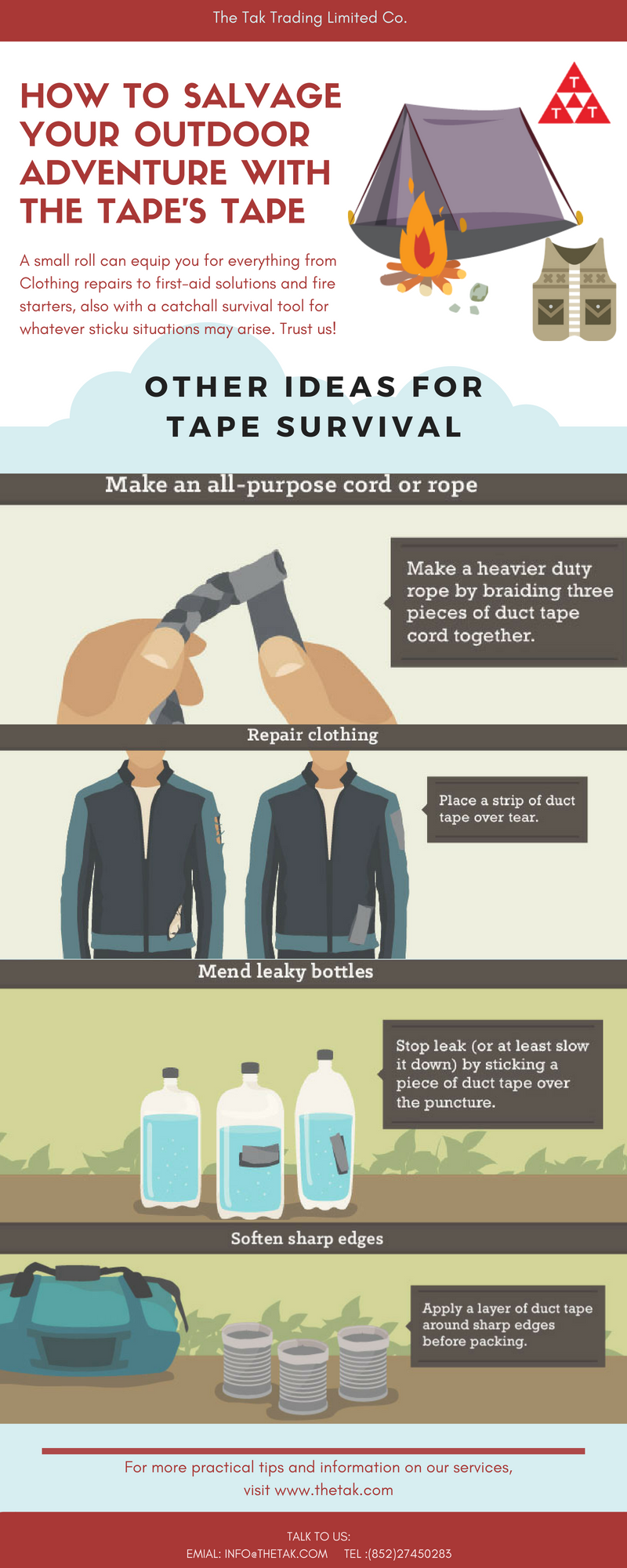 HACK #22 Use to fix a leak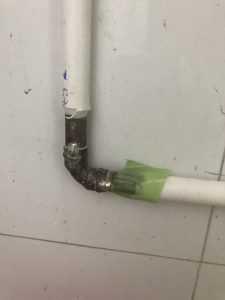 HACK #23 Craft a tape canoe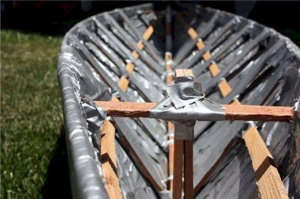 HACK #24 Put up a temporary clothesline

HACK #25 Create custom stencils for DIY shirts

HACK #26 Put together a stretcher in an emergency

HACK #27 Use our tape to mark on the window for protection during in typhoon season(s).

From this news paper clipping, it can be proved that The Tak tape(s) is very effective and the first in sales during in typhoon season(s).